Design-Build: Is It Right For Your Next Real Estate Development?
Unless you've ever undertaken a construction project before, you've likely never considered how a project goes from inception to idea to design to finished product.
Historically, construction has been undertaken through the design-bid-build model. First, you meet with an architect, talk through your design ideas, and then they'll draw you a building.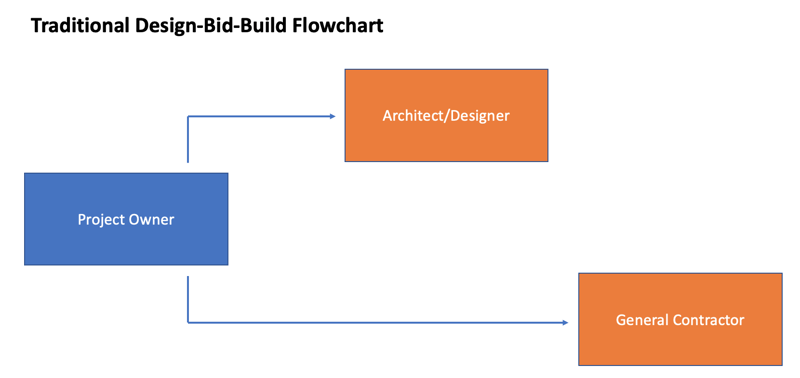 You then take that building design to a couple of contractors to get a bid for construction on the project.
But what if all the bids come in over budget? Or major design features cost more than you expected? Or elements of the building design were back-ordered and would cause significant construction delays?
Well, then it's back to the "drawing board" and another round of designs from your architect.
You can see how there might be some inefficiency in the process, especially if you have a defined budget and timeline.
So, in response to some of the shortcomings in the traditional project delivery method, the construction industry created what we now know as the design-build technique.
What is design-build?
The design-build construction method is a delivery practice where a single entity completes the design and construction services.
It's a type of commercial real estate transaction where the project owner, or real estate developer, enters into a contract with a design-build firm, alleviating the need for the owner to manage several contracts and 3rd parties.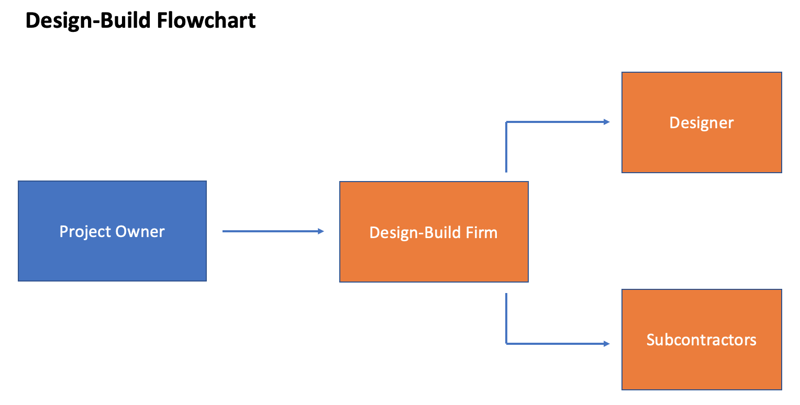 The design-build firm can hire any designers or subcontractors necessary to complete the job, but the project owner only engages with the design-build entity.
Benefits of design-build
1. Streamlined process
The construction process can be complicated enough – you're juggling meeting deadlines, changing input costs, and various moving parts.
If you throw in having to manage the architect and the general contractor separately, you're likely to suffer setbacks.
As a customer, having a singular point of contact for both the design and construction elements of a project can alleviate a significant burden. In addition, it generally leads to faster product delivery because it streamlines the communication between the two parties during the pre-development and construction phases of development.
Additionally, the design-build model forces teamwork and collaboration within the design and construction teams. Instead of having separate agreements with the project owner, a singular contract allows for a more effective partnership between the owner and the design-build firm.
This total accountability on behalf of the design-build contractor generally leads to more efficient problem solving and a better outcome.
Neither party can hide behind the other when there are inevitability snafus during the real estate development process.
2. Almost immediate pricing feedback on design elements
One of the risks you run when navigating a project using the traditional design-bid-build delivery model is overly designing a building.
An architect's job is to design and draw. And while you might find someone who has some experience in construction, building designs can occur in a vacuum with little consideration for a project's real-world costs.
The excitement of a beautiful design may quickly wear off when you get your first bid from a contractor, and it's way over budget.
The design-build model offers almost immediate price feedback on designs and gives an owner much more transparency into the construction pricing process.
3. Higher quality customer service
Built into the design-build model is a premium for the ease and transparency of the construction process for the project owner. And with that premium comes several perks.
Most design-build contractors aren't interested in designing a detailed building until they're hired for the job to help avoid price shopping.
But once that trust is established and the relationship is formalized, design-build firms can offer predictable budgets early in the process.
The arrangement between the project owner and design-build contractor often leads to higher quality customer service and feedback.
Drawbacks of design-build
1. Higher prices
When you enter into a contract with a design-build firm, you've committed to enlisting their services for your real estate development.
The design-build process doesn't offer the opportunity for competitive bidding. You can't take architectural plans, send them to several contractors, and pick the low-cost option.
But, higher construction prices don't necessarily equate to higher total project costs. It's true a design-build firm will likely never compete with the "lowest bid" option but may make up for it with efficiency and time savings.
2. Designs may lack creativity
Commonly, design-build firms have several stock designs for different types of clients and buildings they may encounter. Those designs are then slightly tailored depending on a client's unique needs and requests.
But this project delivery method takes some of the creativity away from the owner.
A design-build firm will likely not offer the full suite of architectural services an owner would expect when engaging directly with a design firm.
3. Less control
With project delivery housed under one operation, an owner may have less control over the small details.
Owners should expect an upfront time commitment to assist with the design and initial plan. Still, once a project is underway, the design-build contractor or developer typically handles the rest.
During the more traditional design-bid-build method, an owner would need to remain engaged with each party (design and construction) throughout the entire process until project completion.
Does design-build make sense for your real estate development?
Each construction delivery method has its benefits and drawbacks. Both design-build and design-bid-build have been in practice for decades, and have each enjoyed construction project failures and successes.
But the question is, how do you know which project delivery method is suitable for your real estate development?
The first step in determining whether the design-build construction delivery method makes sense for you is to understand your development goals.
Because your goals will ultimately determine what's most important to you throughout the project.
There are several questions to consider:
How important are speed and your timeline to the project?
What kind of real estate development are you proposing? (A large mixed-use development vs. a standard office or industrial building)
How important is your ability to control and manage the project?
Is budget or price (within moderation) a critical factor in the feasibility of your project?
Do you have the time or bandwidth to manage multiple 3rd parties throughout the process?
Once you answer these questions, you'll have a much better idea of what kind of construction delivery method will more likely lead to project success.
The role of a real estate advisor
Some of these questions don't have straightforward answers.
And sometimes, what you think makes sense on paper might not be the most effective strategy in practice.
A real estate advisor can offer an outlet to challenge some of your assumptions. And based on their experience, offer suggestions on what might work depending on your unique situation and priorities.
Success in construction and real estate development requires the marriage of various complementary disciplines – project management, operations, design & construction, and finance.
And if you don't have the propensity or the experience to navigate the process alone, a real estate consultant may be a good resource.
You can learn more about our advisory and real estate consulting services here.
Thinking about new construction or tackling a project yourself and want to chat right away? Book some time on our calendar today!